Sweating Sucks Balls
Author: Aubrey
Location: Orange County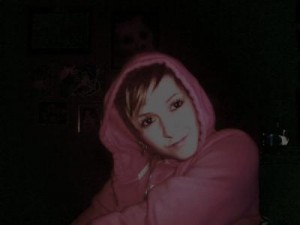 This is me…(NOT sweating too bad!)
Basically, I've suffered–haha key word is "suffered"–from from excessive sweating (ya know sweaty hands/pits/feet – hyperhidrosis) since i was a little kid…and as much as i try to forget about it, it always comes back to haunt me.
I'm big into art, dance, music, currently in hair styling school (which would be alot easier withOUT sweaty hands trust me), and im a very social person. except for the fact that IM A FREAKIN SWEATY MO FO! Which is so sucky, and embarassing, and I try to hide it soo much.
Most people just think im weird or quirky when i avoid holding hands or shaking hands, but im really just so aware of my sweat and i dont want them to know or be grossed out!
I'm considerate of others, and of course ive been teased and questioned, specially when i HAVE to shake a hand or it will be way rude, or when i have to hold hands in dance or something…
Well point is. i wear alot or layers, black shirts, socks, and i even tried to rock the gloves a few years back, but it got too weird in the summer. Haha, lame.
Im just so glad to read about some actual people who have the same dealio as me, and im really looking forward to this whole 'curing it' thing. that would pretty much make me the happiest most confident winner in the world…cause sweating is the only thing holding me back from being really awesome at what I do..
Well anyway. lets all keep thinking non-sweaty zen thoughts.
Peace
Share YOUR Hyperhidrosis Story
Go back to the Bye-Bye-Excessive-Sweating.com homepage
One response to "Sweating Sucks Balls"