I've Had Hyperhidrosis since I was 3
Author: Kelly
Location: Michigan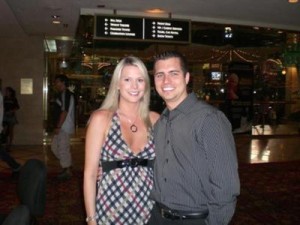 Me…not sweating!
The first time my mom knew something was a little different about me was when I was 3. She was getting her hair cut and had given me a cookie. As I sat in my chair watching her get her hair cut I became upset because I thought she was being hurt. Needless to say, I literally turned the cookie into a cookie mush ball from the sweat and warmth of my hands.
I started going to doctors and specialists by the time I was 5 years old. I tried Drysol, Certain Dry, Drionic machine, accupuncture, beta blockers, etc…each with about zero results. Then it was time to pull out the big guns and start "Stacking."
I tried botox injects with various drugs such as prozac, paxil, etc. Finally after thousands of dollars spent on treatments and specialists (many of them telling me I have the WORSE hyperhidrosis case they have ever seen…I drip sweat from head to toe) I found something that works. I had the ETS surgery when i was 19 and i take Xanax and Robinul to control the rest. Now I am 25 and it's 90 percent under control. So, yes…If I can control it, so can you.
This site rocks. You guys must be helping a lot of people with their hyperhidrosis.
Share YOUR Hyperhidrosis Story
Go back to the Bye-Bye-Excessive-Sweating.com homepage
One response to "I've Had Hyperhidrosis since I was 3"